Man Up to Trump
Claudia Major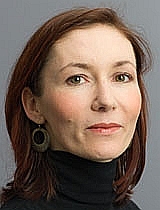 Europeans should be more self-confident about their role in NATO. An upcoming summit with Trump in Brussels is the perfect opportunity, says Claudia Major.
A dinner. That is all that is left of the grand summit welcome originally planned for Hillary Clinton, who was expected to win the US presidency. Following the election of Donald Trump, the grand meeting was reduced to a short get together with little room for discord – at least that's the hope of the European allies. NATO leaders are anxious and confused, and with good reason. Before Donald Trump sang the praises of the alliance, he had famously dubbed it "obsolete". But without the military might of the US, Europeans could hardly defend Europe.
Mr. Trump has set the talking points for the NATO summit, which will mainly center on trans-Atlantic burden-sharing and the role of NATO in fighting terrorism. These are important issues – though his Europeans counterparts appear more worried about the US president getting carried away and making disparaging comments about NATO on Twitter. While Mr. Trump may have shifted away from his initial criticism, US support of NATO still appears to depend on Europeans providing more materials and money for defense. In addition, Mr. Trump also feels NATO should be more oriented towards fighting terrorism.
In 2014, the NATO states agreed they would spend 2 percent of their economic output on defense by 2024. If they don't show credible signs of doing that, Washington has said, the US will have to rethink its commitment to the alliance. To prevent that from happening, Europeans are now making an even greater effort to increase their defense spending – or at least giving the impression by creatively crunching the numbers. NATO is also making an effort to make its current anti-terrorism activities more visible.
As a result, one gets the impression that the NATO meeting could turn into the Europeans putting on a big show to please the US president. By doing so, however, they would be degrading themselves. Instead of seeking to justify themselves, they should, with confidence, make the US aware of their major contributions to security and stability – particularly in Europe and the surrounding region. They should also underscore the importance of the alliance for the United States.
A country as big as the US still cannot shoulder everything on its own, but needs partners who are politically and militarily reliable.
Even before Donald Trump became president, defense spending was already on the rise in Europe. Of course, not everywhere in the bloc and not as fast as it could or should be. But there is an upward trend, even in Germany. And more importantly, there is political consensus that defense is once again important and needs serious financial investment.
Europeans also have a broader understanding of security. For them, it includes not just defense but also stabilization and development cooperation, both of which significantly contribute to security, but don't appear in expenditures for defense. After all, even Mr. Trump's own military advisers have criticized the cuts in foreign aid that Mr. Trump proposed. If you add these expenditures, security spending in Europe is looking good. This should be communicated.
NATO is also already active in the fight against terrorism. This is not just a matter of battling the symptoms with military methods but getting at the root causes with non-military ones. For example, NATO has been militarily engaged in Afghanistan for years while simultaneously focusing on stabilizing the region through training and education, so-called "capacity building". The idea is to create the foundation for the local population to maintain their own security and stability. It is also with this in mind that NATO is training Iraqi security forces.
In addition, NATO states fight terrorism outside of NATO, such as in the international cooperation against Islamic State, which all NATO members joined on an individual basis. Acting in the name of NATO is not always appropriate or sensible. What counts in the end is the result – which is also something that needs to be communicated to Mr. Trump.
Europe also provides a secure hub for US military transport, being conveniently located halfway between the US and many crisis zones.
It will be important at the summit to emphasize that a country as big as the US still cannot shoulder everything on its own, but needs partners who are politically and militarily reliable.
The US benefits from NATO in a variety of ways. The alliance is the world's largest standing multilateral military organization, boasting strong and flexible military capabilities, which can be adapted to a wide range of security threats – from fighting IS to deterring Russia. The US can also benefit from its existing routines, proved procedures, military interoperability, and functioning support structures. For example, although NATO didn't take part in the war against Saddam Hussein in 1991, it did offer logistical support to the US.
Europe also provides a secure hub for US military transport, being conveniently located halfway between the US and many crisis zones. There is a reason why one of the largest US military hospitals is being built right now in Germany. And despite major gaps in their equipment overall, the Europeans do have a number of things which the US doesn't have but could well use, like howitzers and minesweepers.
In the end, Americans clearly benefit from the support of their European partners, even outside the framework of NATO. That is especially true when it comes to diplomatic negotiations such as the Iran nuclear deal, made possible by working in tandem. America's European allies no doubt still have homework to do. But they also have nothing to be ashamed of.
Diese englische Übersetzung des »Kurz gesagt« wurde von Handelsblatt Global erstellt und dort zuerst veröffentlicht.